Australian Dollar hits 7 year lows!
The start of 2016 hasn't been good for the Australian Dollar against the US Dollar. Ok, lets be honest, 2015 wasn't so good either. The little Aussie Battler is in for a battle as our dollar is heavily linked to the economic fluctuations of our biggest trading partner, China…And their outlook isn't so crash hot. (Ed: Don't use the term "crash" when talking about currencies) 
Its perfectly fine to skip this section of the newspaper (Ed: Are you sure people still read newspapers?) or glaze over when watching the news when this topic come up, but the danger is only looking at the headline or listening to the lead in comment and thinking its all of a sudden too expensive to travel anywhere.
In the majority of the cases, the headline is about the Australian Dollar's value to the US Dollar, and yes, over the the last 12 months the $AUD has fallen in value by 17% against the $USD. (Ed: I remember the good old days when the dollar dropped below $.50).
To the traveller this means that when you arrive in the United States everything is automatically 17% more expensive than it was 12 months ago. The $4.00 coffee at Starbucks will now cost your $4.68 and that $100 pair of jeans will now cost you $117. Obviously this means that you either need more money to do all the things that you want, or cut back in some areas. But it doesn't mean that you have to cross the US off your list completely.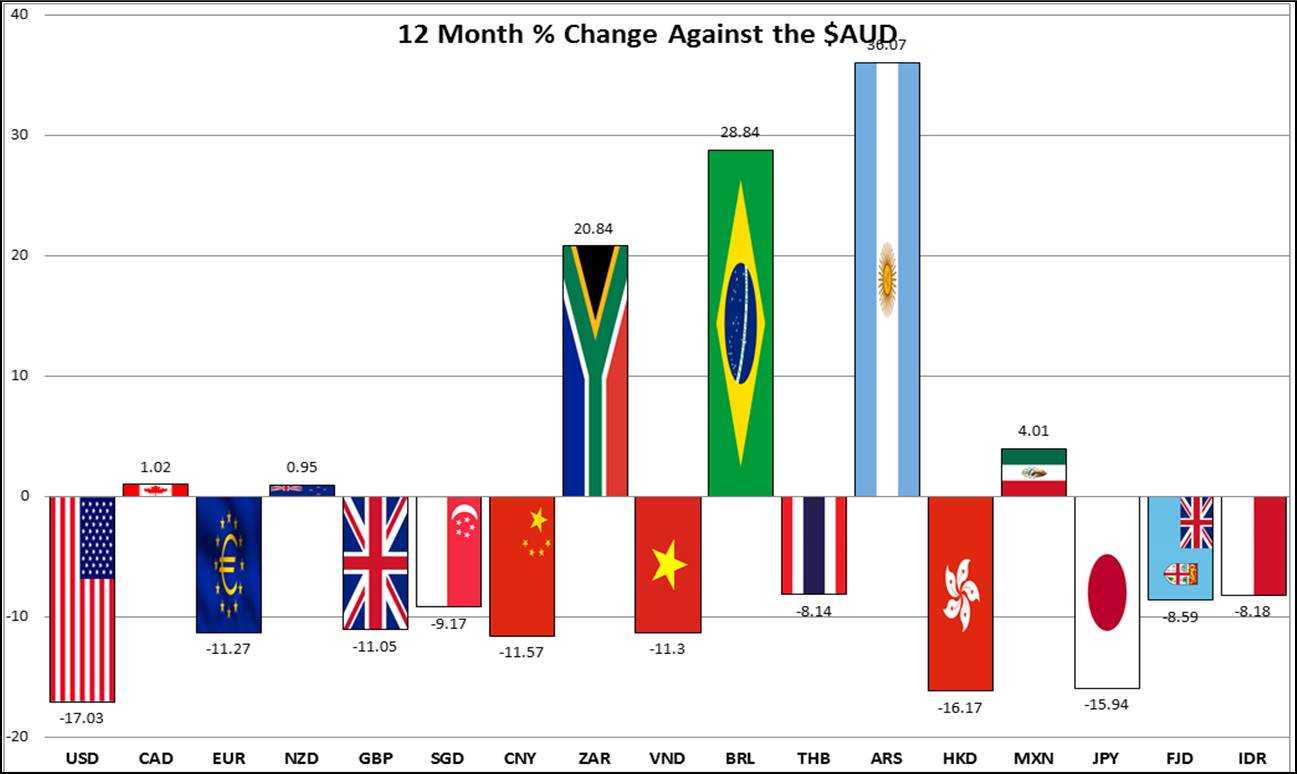 Source: www.XE.com comparison of AUD 15 Jan 2015 vs 15 Jan 2016
There a few shining destinations to think about if you want good value for your Australian Dollar. If you are a skier, or love nature, or you just love going to a really nice place, then head north to Canada or south to New Zealand. The Australian Dollar is slightly up against these two currencies so it wont hurt your hip pocket. (Ed: what if they fall skiing and land on their hip?, I guess the burgeoning wallet full of cash will cushion the fall).
The United State's southern neighbour, Mexico, also offers better value for money this year.
If you really want to drive your dollar further (Ed: I think Budget own this tag line) then grab that plane ticket and head to South American countries like Argentina and Brazil (Ed: you need to warn the reader that Brazil wont be cheap during the Olympic Games). Another destination to put on the list is South Africa. South Africa was relatively cheap before, but with the $AUD's value increasing by over 20% against the Rand, it is now "a must". (Ed: If you need me, I will be in Cape Town).
Its not all doom and gloom.
There a a lot of little gems and this may give you an opportunity to visit a place that you may not have had at the top of your list. Don't let the headline stop you from getting out there and discovering the world.
For those that dont like to read, here's the info in an infographic form…..