Qantas QF93 MEL-LAX
Seat: 2A
Cabin: First Class
Configuration: 1-1-1 (4 rows of suites)
The first thing that hit me was the feeling of spaciousness. Whereas Emirates First Class has privacy, Qantas first class has space as it has open sides, but after being seated you swivel your chair towards the window so that you are facing the television screen. Once you are in the swivel position you feel more private as you are now facing away from the aisle. There is a lot of little storage spaces, drink holders and areas to put your stuff. There is even room for visitors to come and sit and chat, or even to sit down and share a meal with you.
The only thing I would say that is a negative is that the space is designed, there is a little "wall" where your arm rest is and you have to awkwardly twist to reach around to access some of the storage spaces. The décor is rather bland or "understated" after flying with the Middle Eastern carriers of late. There aren't any of the little touches, such as the fresh orchards in a wall sconce, or polished walnut bits, or the little bowl of snacks to munch on during the flight, OR a personalised "mini-bar".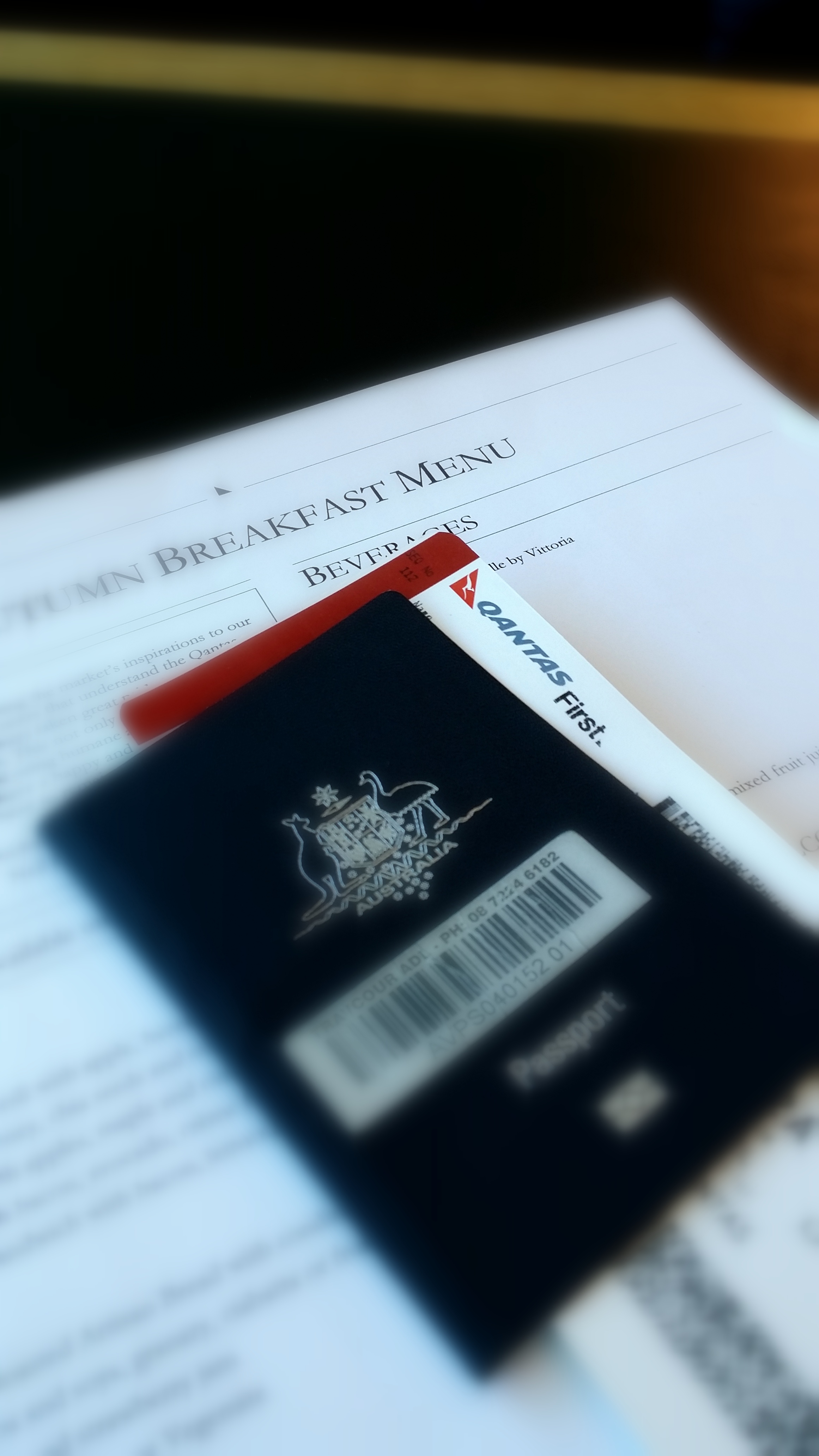 After arriving in Melbourne, getting through Immigration and Customs, we were left with only an hour to sample Qantas' First Class Lounge. On first impressions it looked on the smaller side, but service was efficient as the restaurant was full and they served us our breakfast in the lounge area we we plonked our stuff. The egg and bacon roll was exactly what I needed at 8am as I had already been awake since 3.30am for the early flight to Melbourne. The great thing about the First Class Lounge was that it literally was above our plane, so boarding was easy and meant we could leave the Lounge at the last minute.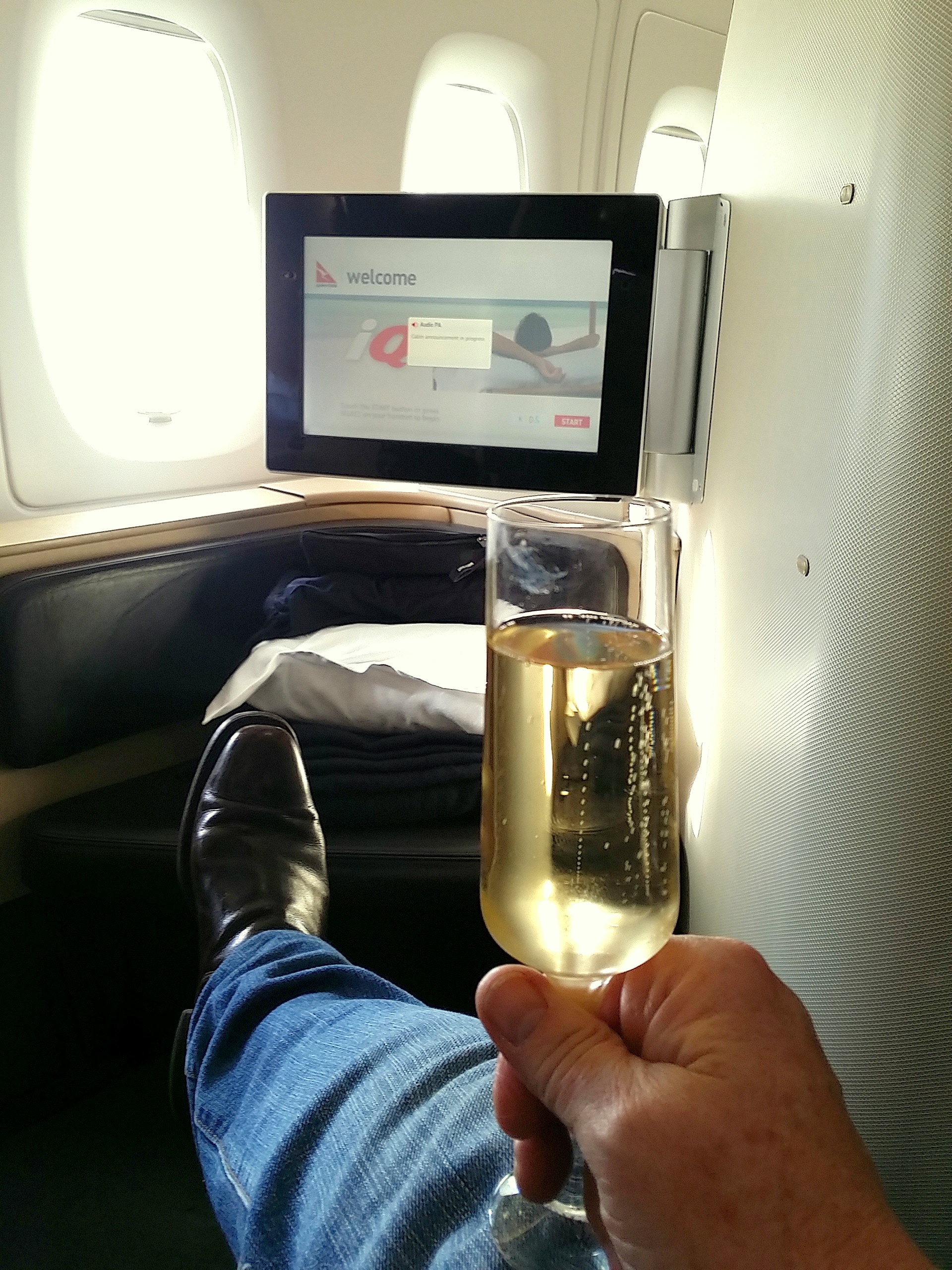 Upon embarkation, The Crew introduced themselves and offered a nice glass of Veuve Clicquot and a plate of olives. They were welcoming without being annoying. I like to "get ready" before take-off and work out what I might need during the flight, explore the storage nooks and crannies and sometime the crew can be too convivial and fuss over you and you end up with 5 or 6 people coming to introduce themselves that you never remember their names or what they do. This Qantas Crew had the right amount of "fuss".
Menu – The Neil Perry lunch menu was full of good choices. The Maggie Beer pate (always a favourite) and the caviar with celeriac puree appetisers were very nice and a good small size. As it was only 11.15am (my time), and only a few hours since breakfast, I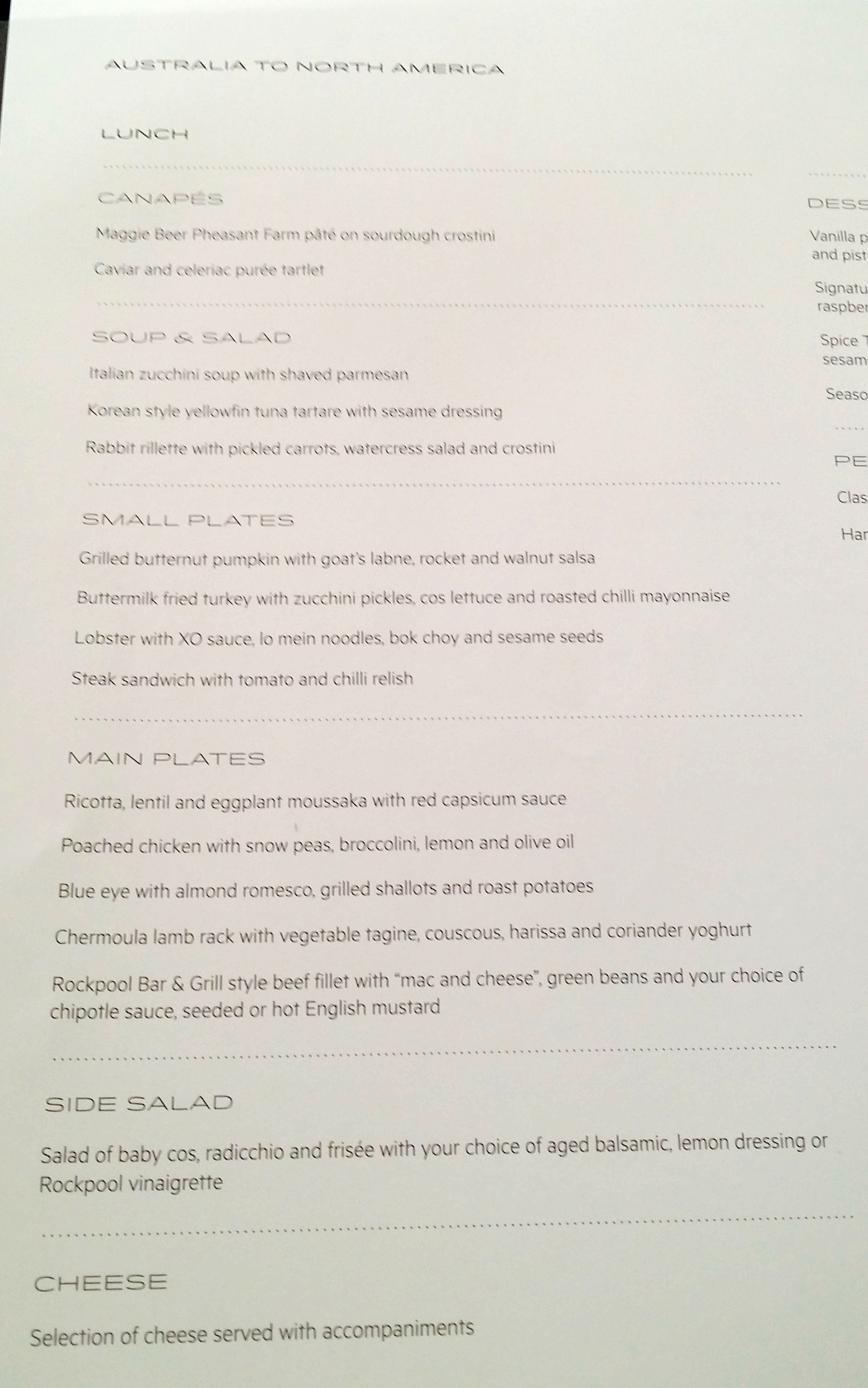 didn't feel like too much to eat, so I chose two small entrees rather than a big main course. I couldn't go past the Lobster and soba noodles with XO sauce and I had heard that the First Class Steak Sandwich was a must. The Lobster was excellent, the steak sandwich was also nice but very simple – steak, chilli sauce on a bed of rocket in a baguette….where was the beetroot, egg, onion, cheese and tomato. I won't fall for that trap again!! The wine list was also very simple with only a few choices. I expected more, but still managed to find a Riesling I like.
Despite being full, Emma the hostie, implored that I had to have the Ice-cream sandwich. Oh wow, it was fantastic and full of honey, nuts and chocolatey goodness. Leave room for this treat.
Breakfast was the usual choice of eggs & bacon, yogurt, muesli  etc.
The Seat – The seat swivels to face the window or your guest after take-off. There are USB ports to charge your devices as well as noise-cancelling headphone. It is comfortable and fully reclines into a fully horizontal flat bed. While you are changing into your stylish black Martin Grant (who I assume is a designer??) pyjamas and slippers, the cabin crew make up the bed for you with a mattress and duvet. Despite being so comfortable, I didn't really get any serious sleep: maybe 2 hours here and there and eventually I just gave up. Unlike most flights, it was really hot in the cabin which didn't help with sleep. I should have taken the sleeping tablet that was on offer by my travelling companion.
iQ – Qantas' entertainment system had a lot of choice. They had a lot more recent movies than I've experienced on a lot of other flights.
The Crew – the crew on-board were fantastic. They were friendly and attentive without being too in your face. They had a great knack of knowing when to be chatty and when to leave you alone. They were also very helpful with some suggestions on what to do and where to go in our ultimate destination, New York. Upon touchdown in Los Angeles, my inner 9 year old self was beaming with excitement as  I was invited into the cockpit to have a look before disembarking.  Nice end to a good flight.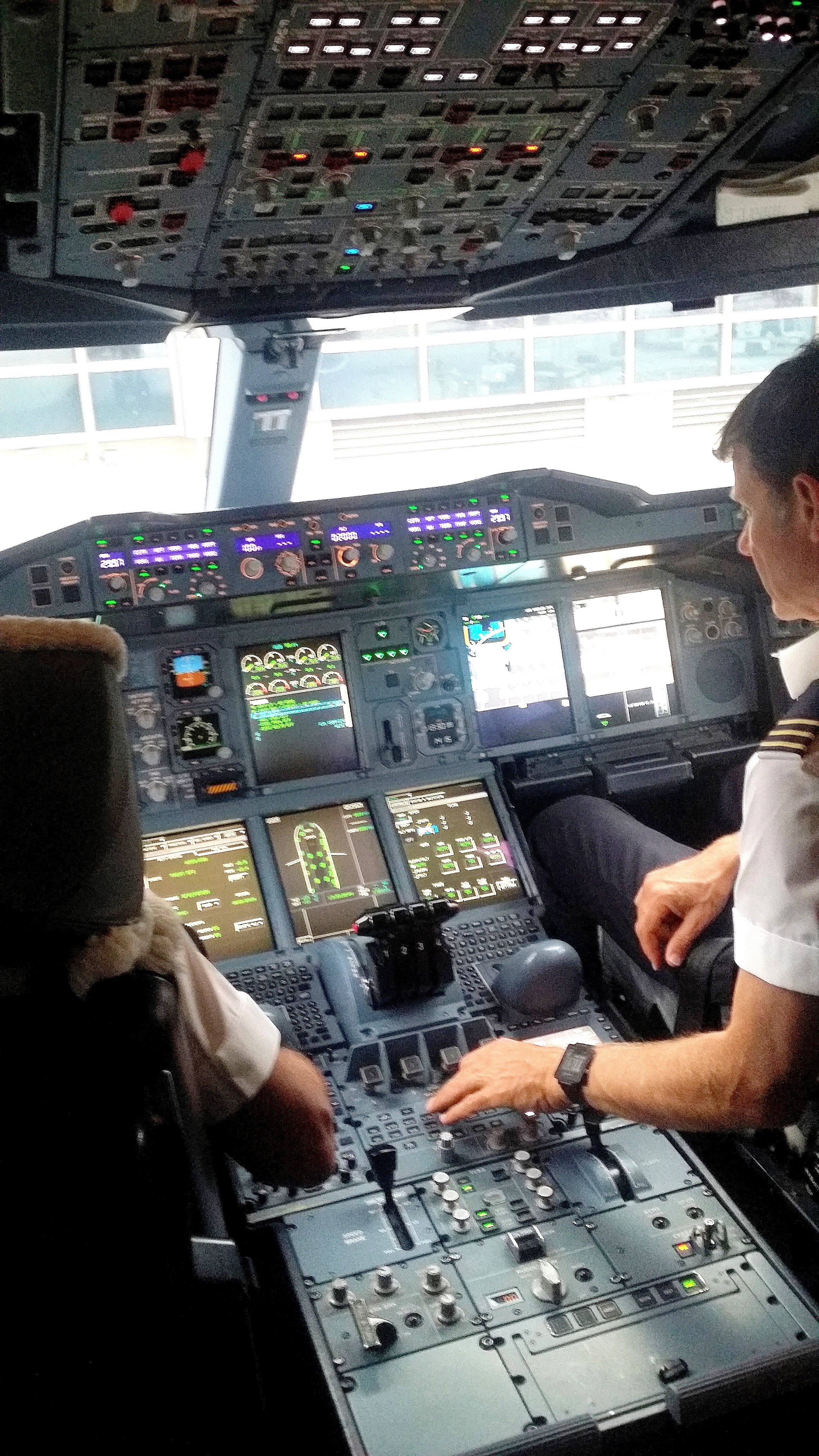 Overall: Despite the lack of sleep, I enjoyed the overall Qantas First Class experience. I absolutely rate the service; it has been friendly, efficient without feeling forced. Can't wait until next time. Hopefully, there will be a next time.
#thedontforgettravelgroup
THE DONT FORGET TRAVEL GROUP
79 GLEN OSMOND ROAD
EASTWOOD, SOUTH AUSTRALIA 5063
PH: +61 8 8118 6340