WHY IS IT SO HARD FOR OVERSEAS AUSTRALIANS TO GET HOME?
The cap on Inbound Passengers, that's why. The number of arrivals allowed was limited before and has now been halved since July, and this reduced limit has been extended to at least the end of October 2021.
This map shows the maximum weekly number of inbound passengers allowed into each international airport.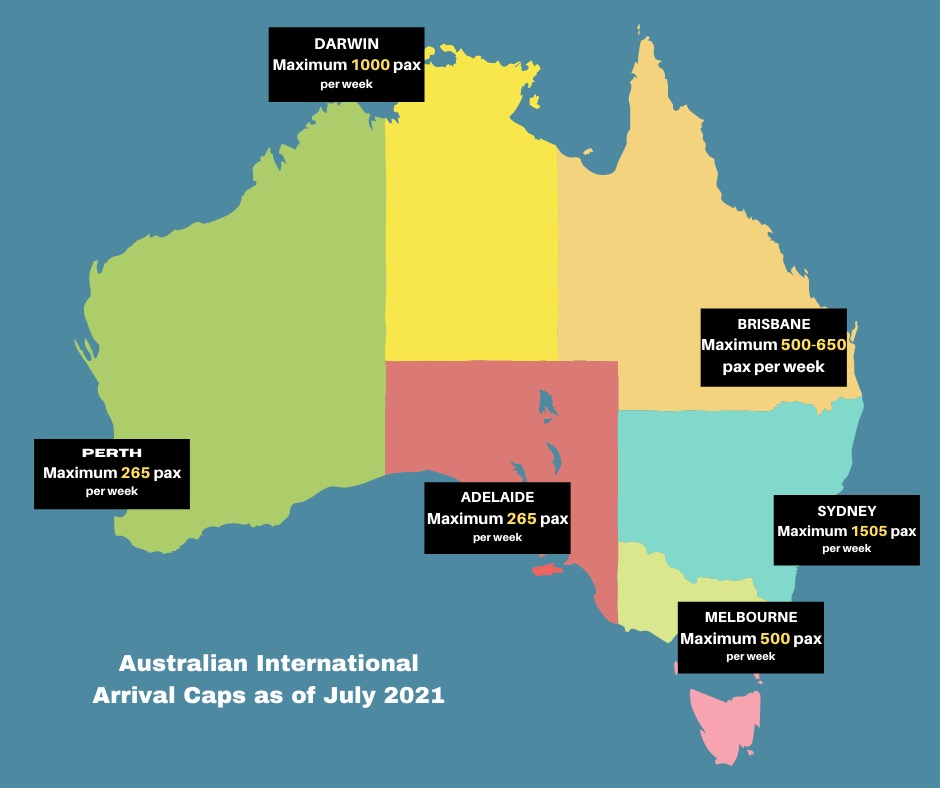 WHAT DOES THIS MEAN?
Lets take Adelaide for example. Adelaide's current maximum is a total of 265 returning international passengers per week. Now we currently only have 2 international airlines flying into Adelaide: Qatar and Singapore Airlines both 3 times a week.
This means that the weekly number of allowable international passengers gets divided amongst those 6 flights. That's approx. 44 passengers per plane!
Air New Zealand has suspended their direct flights from Auckland to Adelaide. When they resume, it will make the maximum passenger limits worse, because the 265 will get divided between even more flights, making it harder to get home. If Air NZ go back to 4 flights a week, then those 265 passengers will be spread over 10 planes……26 passengers per flight.
While Melbourne, Sydney & Brisbane have higher caps, they also have more international carriers servicing those airports. I believe Sydney has around 25 people per flight, Melbourne's plane limit is approx. 10 and Brisbane's is as low as 6 passengers per flight.
Now are you getting an idea of why it is so hard, and expensive to return home to Australia?
WHY ARE THERE LIMITS?
So that the hotel quarantine system isn't overloaded. There is a limit to the number of secure quarantine hotel rooms in each city.
WHY ARE PEOPLE GETTING THEIR FLIGHTS CANCELLED?
Generally, what is happening is that the airlines are pre-selling as many seats as they can in the hope that by the time the flight happens the restrictions have been lifted. When it comes to the flight date and if there hasn't been any change in limits, they then cancel the overbooked passengers.
These cancelled passengers don't automatically get rescheduled to the next flight because that is probably already overbooked as well. Hence why there is still so many Australians still trying to get seats. So, when the Australian Government halved the inbound passenger limit it caused havoc amongst the industry.
Also, I believe, as I haven't had anyone from an airline confirm this, that the airlines are prioritising Business & First-Class passengers over those paying Economy.
WHY ARE FLIGHTS SO EXPENSIVE?
With such small numbers allowed per flight, and the demand for them are so high, as well as operational costs of those flights haven't changed, it is a case of supply and demand. The price of the flights hasn't really increased that much, its just that no one ever paid full price prior to Covid as the flights were so heavily discounted.
HOW CAN AN AIRLINE CONTINUE TO AFFORD TO FLY TO AUSTRALIA?
Freight is the short answer. Most of those planes you see in the sky are bringing freight into Australia, that is paying the bills.
Airlines have also reduced their scheduled and are not flying here as often, or to as many Australian airports.
Some airlines have stopped flying into Australia completely – we just hope that they will return. There is no guarantee, as the Northern Hemisphere has opened up, many planes have been redeployed to satisfy demand in that region. They may not send their planes back to Australia for many years or until we are back to normal travel numbers.
WHAT IS THE ANSWER?
Hopefully increased vaccination rates will revise the quarantine system and vaccinated international arrivals be allowed to complete their 14 days quarantine at their home. The South Australian government has begun some trials on this system, so fingers crossed this goes well.
---
The Don't Forget Travel Group is a boutique travel agency that plans and curates custom-made holidays.
Follow us on Facebook and Instagram
Contact us through www.dontforgettravel.com.au