If Greece is the word, then Athens is the capital letter.
Greece conjures up images of white washed cube-shaped buildings, blue domed topped churches, clear azure waters, sunny days and stunning sunsets. Most people are in a hurry to get to the islands.
But stop for a minute, no wait, stop for a few days.
Athens is often overlooked in the rush to get to the islands. Behind the often first impression of dirt and grime, the uninspiring architecture of the six storey blocks of apartments is an exciting city with an intoxicated blend of the ancient and the new.
My tips on why you should spend time in Athens.
The capital is full of ruins. Some are ancient and some even date back to the 60's when the building codes weren't so stringent! The Parthenon is the crown that sits proudly atop the Acropolis, and well worth a few hours wandering around this monument and surrounds. The city feels like an open air museum as there are ancient temples, sporting arenas, archaeological digs everywhere. Many of the Metro stations are also museums housing artefacts uncovered while digging the underground train system. The new Acropolis Museum now floats above a working archaeological site because they kept finding new things as building progressed. In fact whenever they turn earth to build something, it feels that they uncover a new ancient site.
Greek's relationship with food is a bit like the friendship between Kiwi's and their sheep, its love at first sight. It would be hard to starve in Athens as the opportunity to eat is ever-present…except for breakfast which seems to consist of a thick, strong coffee and an even stronger cigarette. While the Plaka offers many tavernas with great views of the Acropolis, my advice is to head into the back streets to discover better, more authentic tavernas. A rule of thumb is –  if it is small with plenty of locals then it is going to be worth trying. Of course, being empty isn't a true indication that it should be avoided as you just might be too early. Greeks love to eat late and generally lunch can start anywhere between 2-4pm and dinner rarely begin before 8-9pm.
I'm not sure if the Greeks invented socialising, but they certainly have perfected it. If a Greek asks to meet for a coffee what they are really saying is "let's sit for a couple of hours slowly sipping a frappe and talk about the issue of the government, the football, or the good old days". Athens is full of many great café/bars (a hybrid venue depending on the time of day). If you are feeling adventurous, seek out a Bouzoukia and have a night out watching the locals enjoying an entertainment that is part traditional and part Vegas. It is a night full of sequins, strobe lights, cheesy choreography, and smoke machines and due to OH&S restrictions, plate smashing has been replaced with flower throwing.  You may not understand the words, you may not even like the music, but there is no mistaking the emotional singing and the renditions of melancholic longing for a time long gone – and that's just the audience.
As summer heats up, like the streets, the shops begin to empty as everyone, tourists and locals alike, begin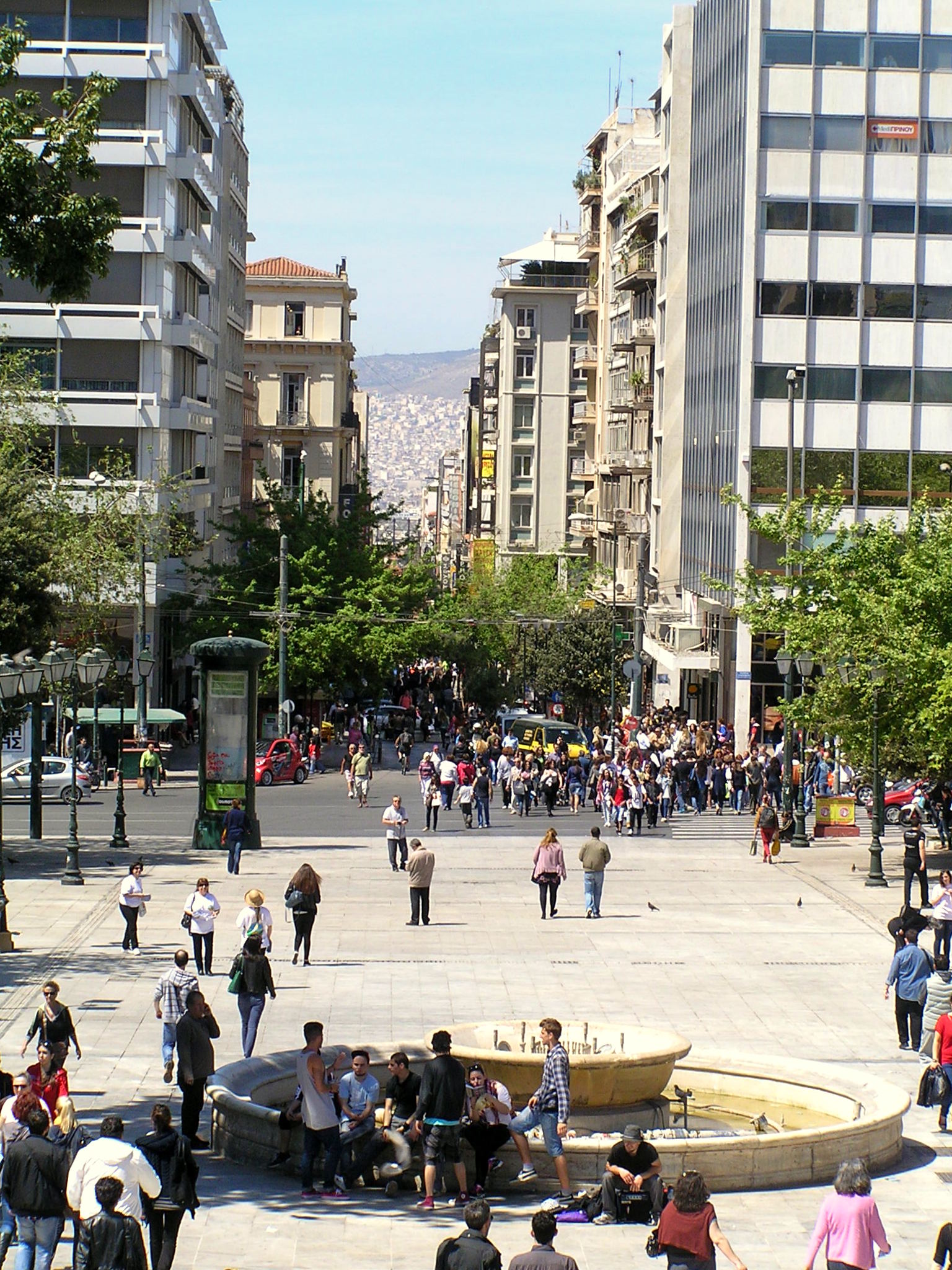 the exodus to the islands. This means that most retailers drastically discount their merchandise to entice the Euros out of the few wallets left in Athens. A great opportunity to bag a bargain. Two main shopping regions in the city centre are Ermou Street which is a pedestrian only street full of international and local brands, and if you prefer more boutique style shopping then head to the nearby suburb of Kolonaki.
For a big city, Athens is a relative safe city to walk around and get lost in. My advice is to walk the back street of the city centre and you will discover a little taverna or a laiki (a local street market), or a zacharoplasteion (sweets shop), or a little bar. You might discover neo-classical buildings dating back centuries or maybe some modern street art. You will definitely see Greeks going about their daily lives. The Acropolis may be the heart of Athens, but the streets are the veins teeming with real life.
Before you get out of Athens, I recommend that you get right out of Athens because there is so much to see. Catch the tram down the coast to one of the beach clubs for a day of relaxation, or travel a bit further to the upmarket suburb of Glyfada. Highly recommend getting out of Athens and visiting the Peloponnese region, or heading up to Delphi. If you really want a "wow" moment, then I cannot recommend enough, a trip north to see the monasteries of Meteora, impossibly built on top of these sandstone pillars. Just amazing.
To head straight into the islands is like going directly to dessert before having main course. Yes you will be instantly satiated but once the sugar rush has subsided you feel quite empty.
You can't really understand Greece until you have spent some time in Athens. Give it a chance, you won't be disappointed.
Of course if you can't extend your time in Athens, then this video will help you to get the most out of your short time in an amazing city.
The Dont Forget Travel Group is a boutique agency that specialises in custom-made holidays.
Follow us on Facebook and Instagram
Contact us through www.dontforgettravel.com.au