Emirates EK144 ADL-DXB
Seat: 1K
Cabin: First Class
Configuration: 1-2-1 (2 rows of private "rooms")
Everything about this was first class. Check in was easy, the welcome on board was friendly, but not too over the top.  Of course the private cabins are a little oasis in the sky. Slide the doors close and you are in your own little world. There are nice little touches, such as the fresh orchids in a wall sconce, the little bowl of snacks to munch on during the flight, and there is a "mini-bar". The mini bar is probably not needed as it is only filled with non-chilled water and soft drink, but it does have a wow factor.
Menu – didn't have any trouble choosing from the selection on the menu. As it was now 10pm, I didn't want much to eat before sleeping, so I chose the Caviar and washed it down with a few glasses of Dom Perignon 2006. Both were very nice. I also manage to compliment dinner with a few glasses of Chivas Regal…so I had a good buzz on!!
The seat is comfortable and fully reclines into a flat bed. While you are changing into your stylish pyjamas (the new moisturising ones),the cabin crew make up the bed for you with a mattress and duvet. I managed to get a good 6 hours of sleep, but it was a very bumpy flight, so a deep sleep wasn't forthcoming.
Another cute touch is that when the main cabin lights are dimmed, all of a sudden you are transported to another place as the cabin lights up like a night sky with twinkling stars.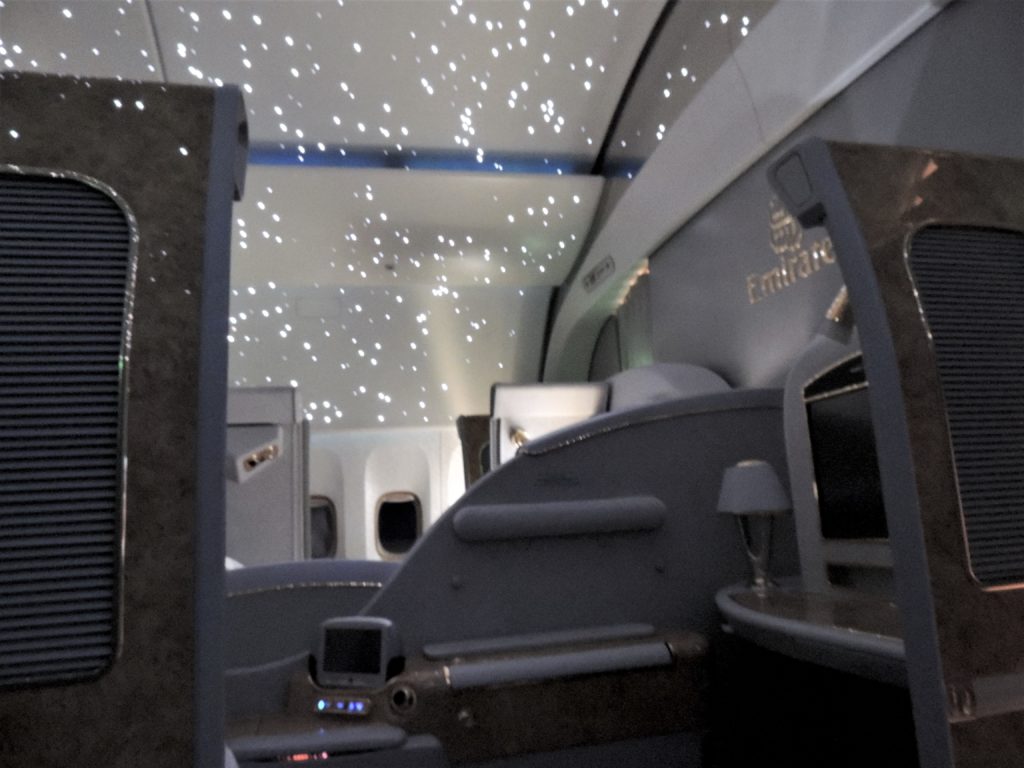 ICE – the entertainment system (Information, Communication &
Entertainment) had a lot of choice. On previous Emirates flights I have struggled to find much to watch, but this time there a lot of selections that I wanted to see. This possibly says more about the current movies, rather than the system itself.  I chose to watch LION, and after a skinful of scotch and champagne, I was grateful for the sliding doors so that I could cry in private!!!
Overall: Great flight, great service, great product….and everyone should try to sit up the very pointy end of the plane at least once in their lives.
Footnote: The big surprise was the plane didn't dock at the airport but a few miles away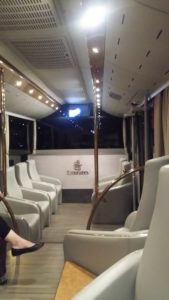 (felt like it anyway) and Emirates had a luxury First Class bus pick us up (all 2 of us). It was very special and I felt like a rock star! It was a really nice finish to the flight. I am pretty sure by now there was tears of joy.
As I was staying with friends, and it was still 5.30am and way too early to go to their place, to kill a bit of time, I didn't take advantage of the "Express Pass" for Immigration or Customs. The efficiency of the airport meant that I still got through quickly, and being First Class my luggage was the first to appear on the belt….the complimentary limo was ready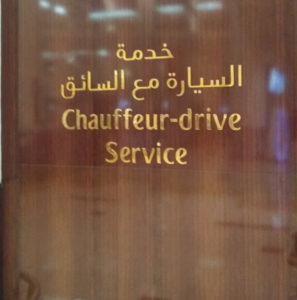 ---
The Don't Forget Travel Group is a boutique travel agency that plans and curates custom-made holidays.
Follow us on Facebook and Instagram
Contact us through www.dontforgettravel.com.au