SWIMMING IN THE WORLD'S GREATEST INFINITY POOL
The Devil's Pool on the edge of Victoria Falls.
The devil is in the detail. Or is the detail in the Devil?
Sitting on the border of Zambia and Zimbabwe, Victoria Falls is one of the world's most impressive waterfalls with about 1008 cubic metres of water every second plummeting the 108-metre vertical drop into the crevasse below. While neither the highest, nor the widest waterfall in the world, Victoria Falls is classified as the largest, based on its combined width of 1,708 metres and height of 108 metres resulting in the world's largest sheet of falling water. 
While Niagara Falls and Iguazu Falls may be classified as "bigger", Victoria Falls offers something that none of these can. The opportunity to swim to the edge and peer over into the abyss.
Due to a geographical phenomenon, during the low season, there is one spot where the surging water doesn't reach, and with a natural rock barrier creating a lip, there is relatively calm section called The Devil's Pool that can be reached during August-January where you can stare death in the face.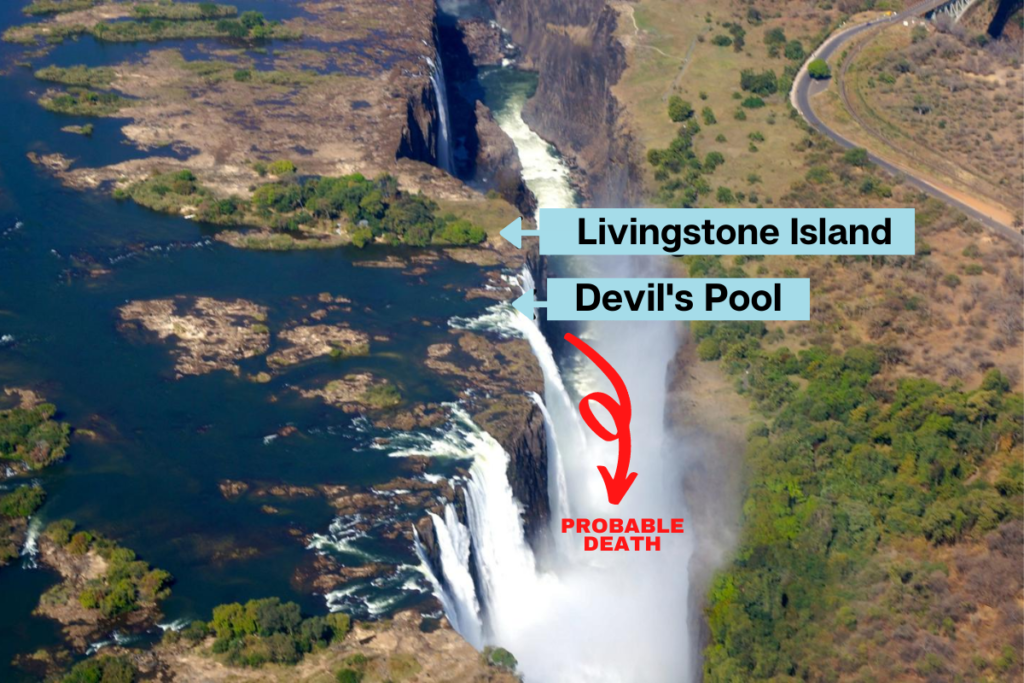 There are a number of different tour times to choose from (more on that below) but as I had a flight to catch, my only choice was the 7am departure. 
After a 5 minute boat ride from the launching site near The Royal Livingstone Hotel, you arrive at Livingstone Island, where Dr Livingstone first set eye on Mosi-oa-Tunya, "The Smoke That Thunders" on 16th November 1855 and renamed it Victoria Falls in honour of the reigning monarch, Queen Victoria.
By pure coincidence today's date was 16th November 2019. It was exactly 164 years to the day, that I laid eyes on Mosi-oa-Tunya from the very same spot that Livingstone described as "a scene so lovely it must have been gazed upon by angels in their flight". I muttered something philosophical like…
"f*ck! that's a long drop".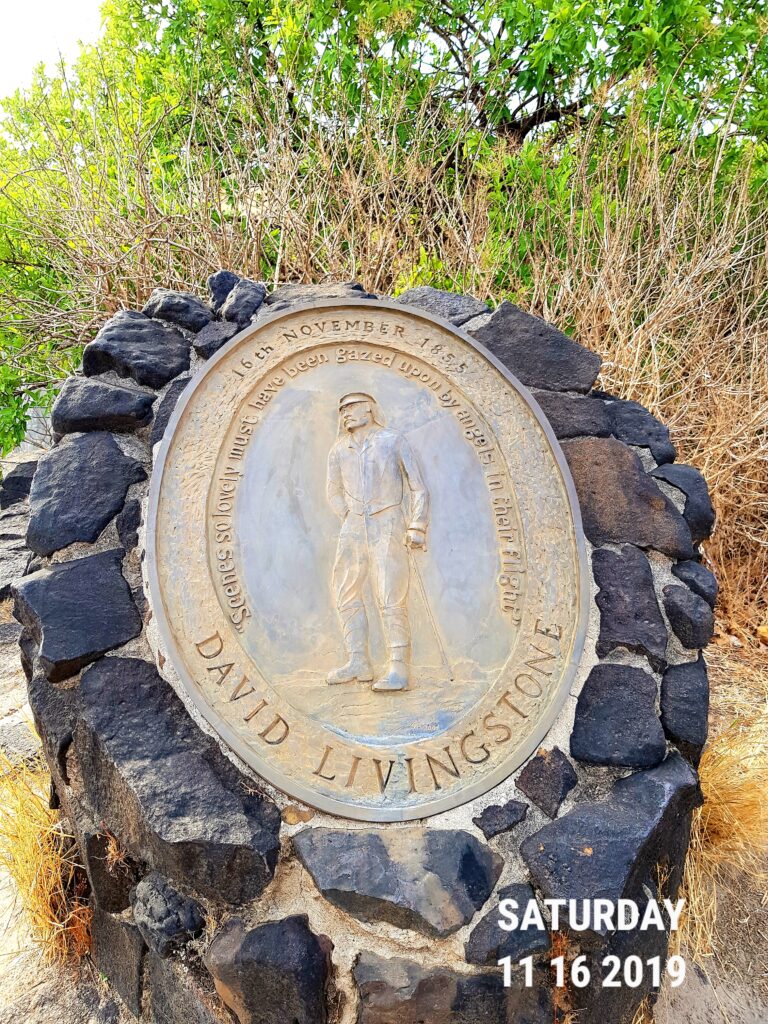 Our guide patiently took our photos as he encouraged us closer to the edge of a dry section, which resulted in many pics with startled and frightened expressions. But this was just the entre to the main course, swimming in The Devil's Pool.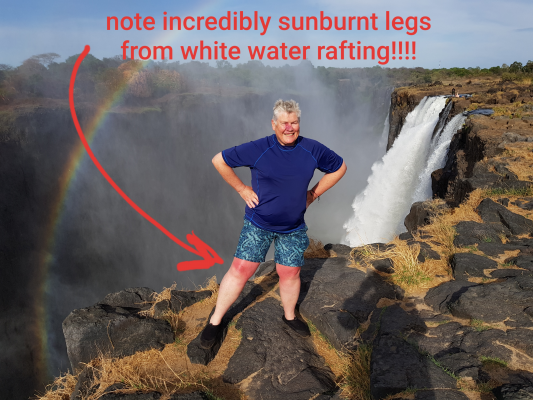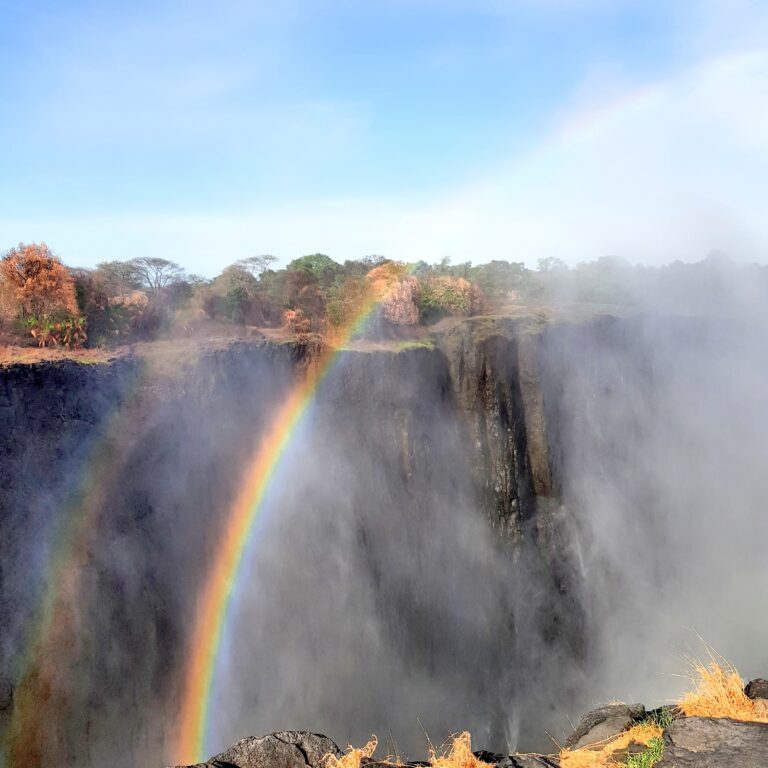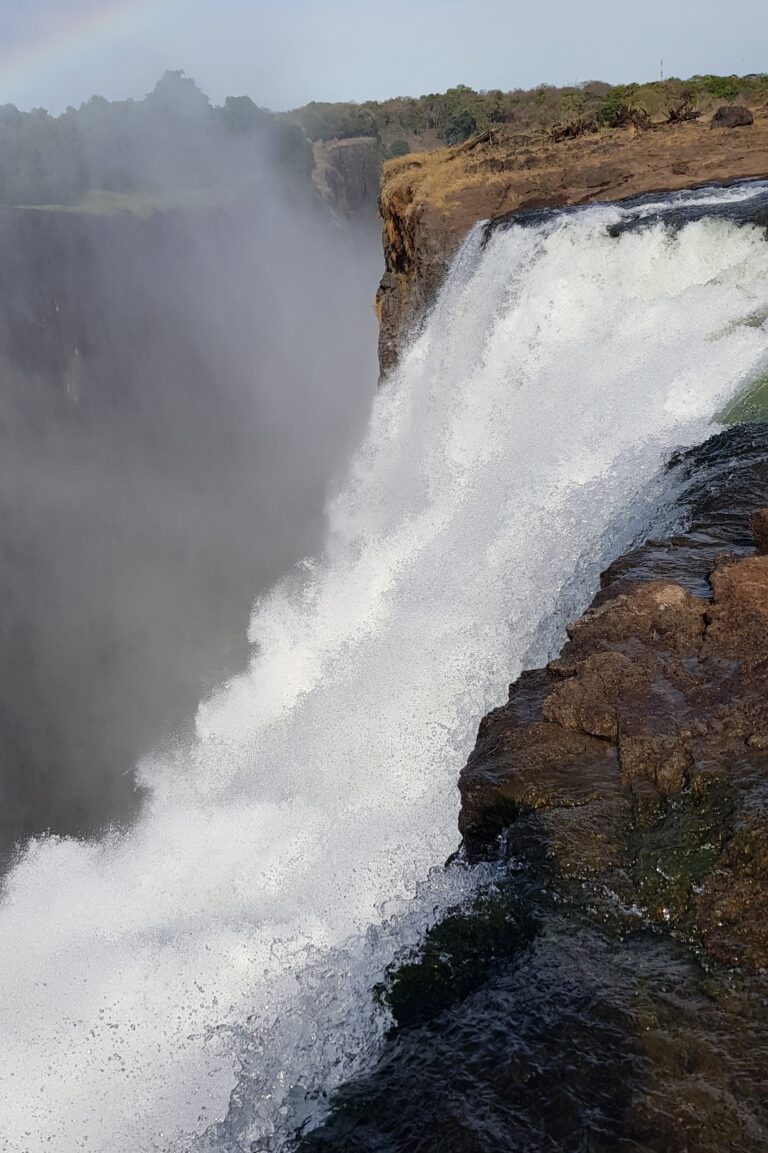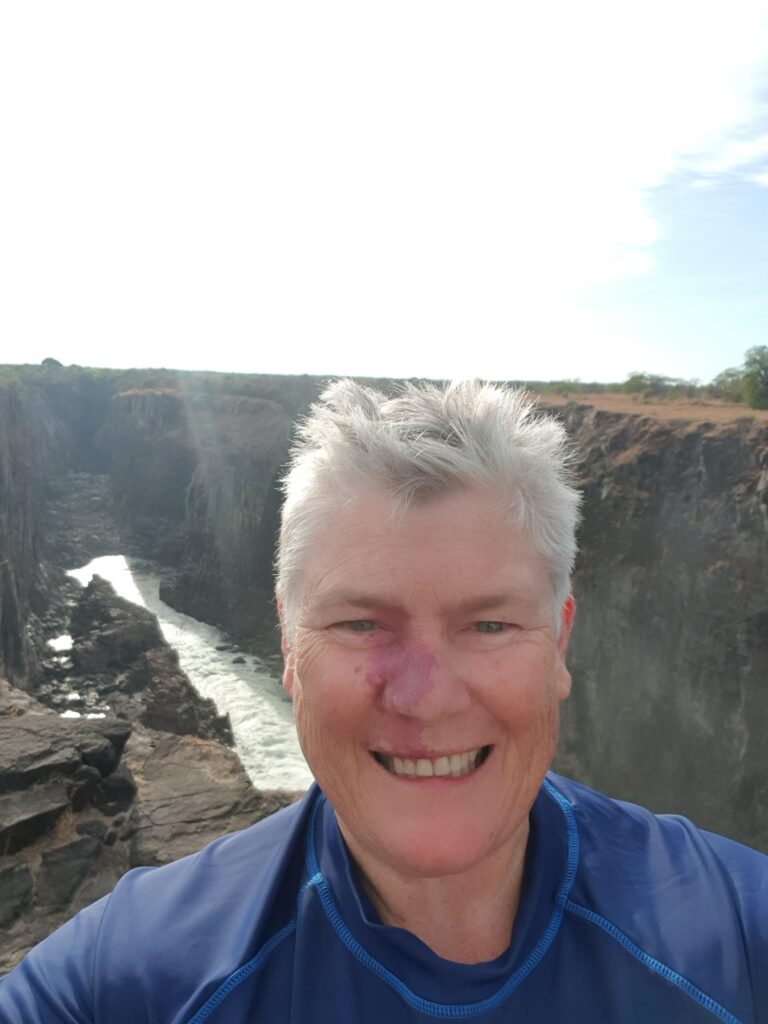 After clambering over some rocks, we were led to the edge of the Zambezi and we slipped into the water. The water temperature was pleasant (the outside temperature was in high 30C's), although an elderly gentleman in his 80s decided it was too cold for him, and he decided to stay on Livingstone Island. Despite a rope guideline being stretched across the river, we were made to swim up against the mild current for about 25m then allow the current to take you to the next small "island".
A few more rocks to clamber over and you arrive at The Devil's Pool.
I had seen photos where people had jumped into the pool, but our guide would not let us, so we climbed down the rocks and slid into the pool like a graceful seal. While you can feel a strong current wanting to push you towards the edge, it is nothing like the raging torrent not more than 10 metres away.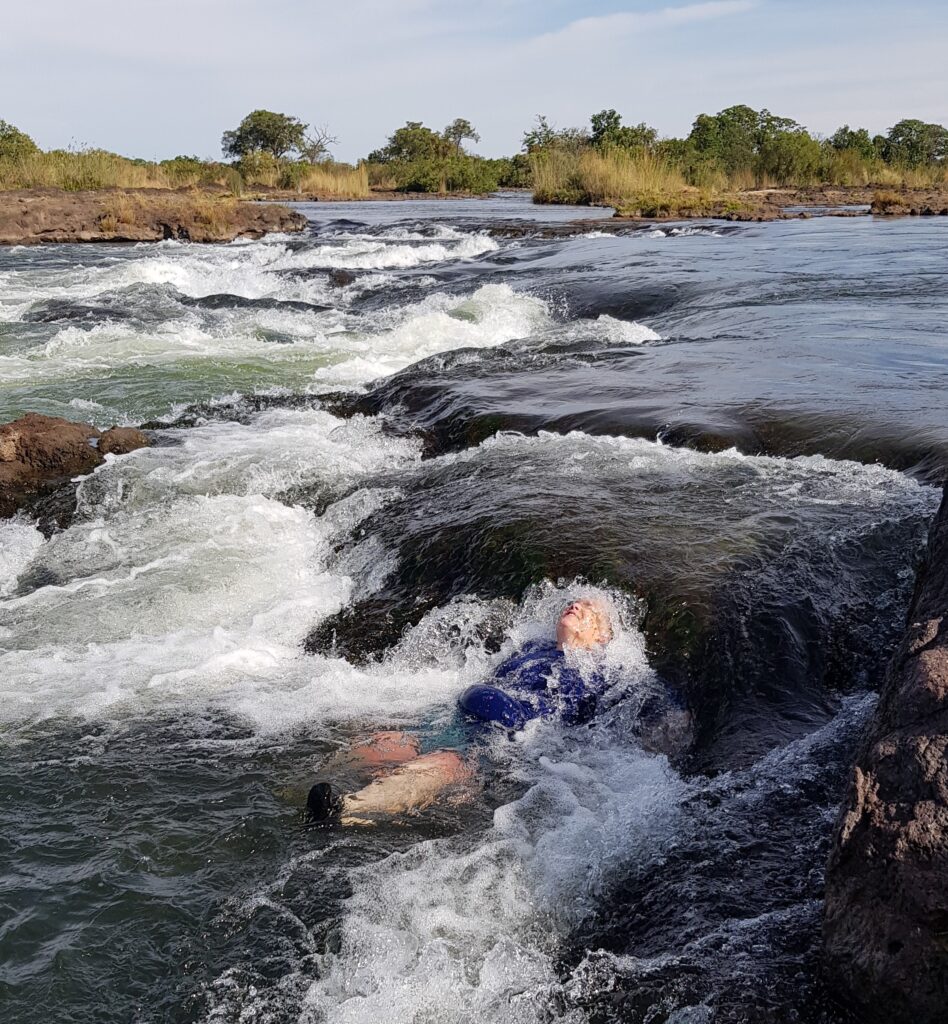 After "sitting" on a rock ledge at one of the mini falls taking a "zambezi shower", it was my turn to look the devil in the eye. I let go, and was swept swiftly, and powerfully, towards the waterfall edge. Abruptly, you reach the rock lip and the guide shows you the ledge to stand on and immediately you feel safe.
"Oh my god, I didn't die"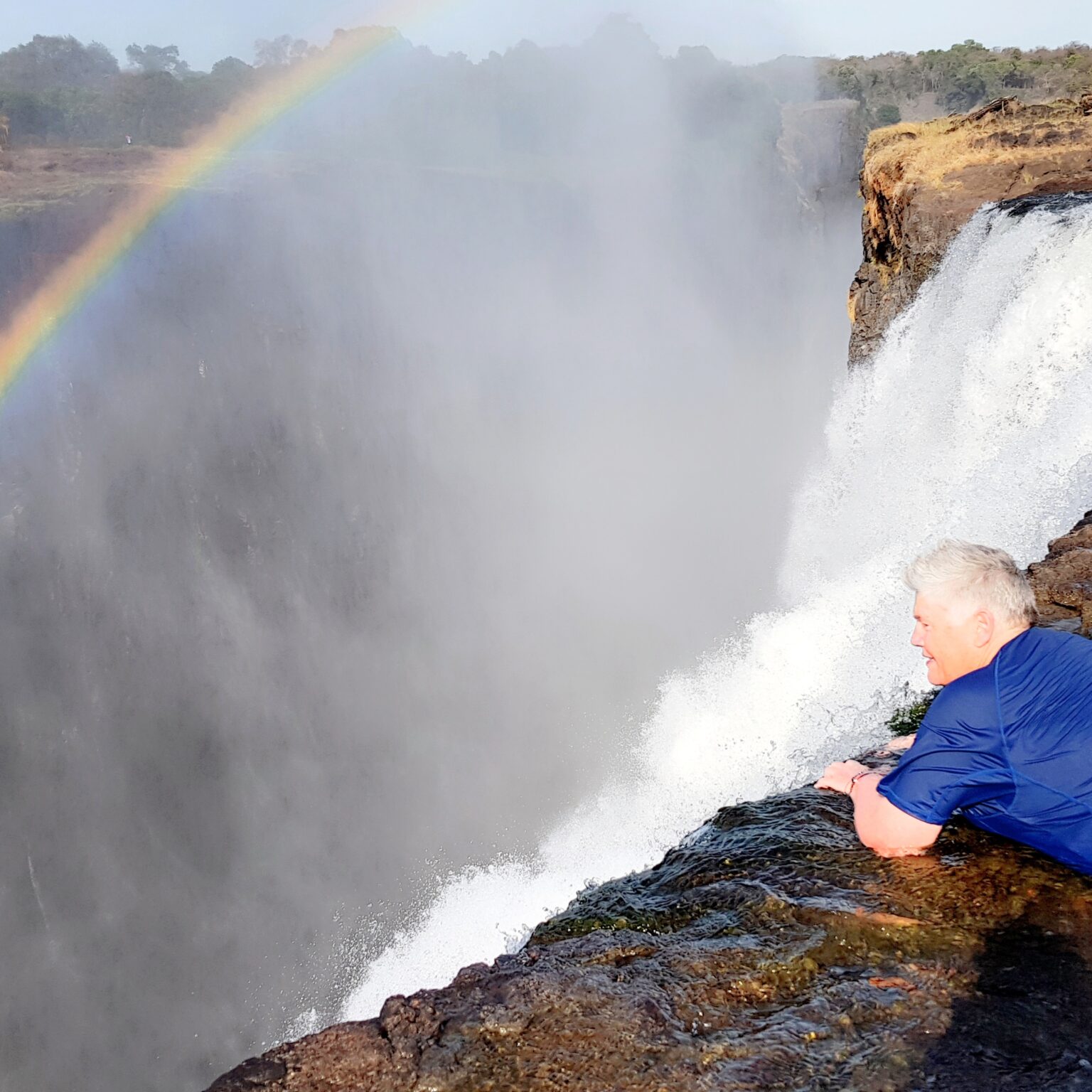 The "edge guide" then instructs you to sit, lie, pose, stretch, "blue steel" on top of the rock as he holds your feet as a semblance of safety! Meanwhile, the "photo guide", named so because we had all entrusted our cameras and cell phones to him, was capturing the moment for everyone. I was astonished with "Photo Guide's" ability to comfortably stand on the edge of a waterfall, while automatically knowing whose camera was who's, and working those cameras without requesting any instructions, and taking over 200 photos and videos per person within a few minutes using burst mode.
Very Impressive.
The beauty about doing the early morning tours is that you get to the benefit of the rainbow which adds to the drama of the setting and looks great in your photos.
After the "Sports Illustrated Swimsuit Edition" shoot was over, we swam back to Livingstone Island where our cooked breakfast was all laid out for us, before heading back to the hotel to quickly pack before my flight to Johannesburg.
It was so much fun and a great way to end my trip. 
You cannot visit Devil's Pool without being part of a tour, and you cannot get a "tour only" package. Each package includes a meal and appropriate drinks for the time of day. The prices are only estimates.
The price of the tour depends on the time of day and which package you choose:
Breakfast: 07:30, 09:00, 10:30 am) costs from AUD$225 (2 hour tour)
Lunch: 12:30pm costs from AUD$348 (3 hour tour)
High Tea: 15;30pm costs from AUD$305 (2 hour tour)
What's Included in the Devil's Pool Victoria Falls Tour Price?
The Devil's Pool Victoria Falls tour (AKA Livingstone Island tour) includes the following:
A five-minute boat ride from the Launch Site to Livingstone Island.
A complimentary welcome drink.
A brief tour of Livingstone Island
Swimming in Devil's Pool
Two guides for the entire group (one who takes photos, another who assists in the pool).
Towels are provided for you upon getting out of Devil's Pool.
A meal – breakfast, lunch, or high tea, depending on what Devil's Pool tour you booked.
Drinks are also provided during the meal.
Note: No alcoholic drinks are available during breakfast (not complimentary nor for purchase), but an assortment of wine and beer is included with the lunch and high tea tours. Interestingly, no tea is available during the "high tea" tour.
Take a change of clothes. There are changing tents available on Livingstone Island so you can change into dry clothes.
The water was surprisingly "not cold".
I had an early breakfast tour and the food was quite nice and quite substantial.
No need to take special cameras or GoPro unless you really want to. I was impressed with the "camera guide" as he managed to handle 12 individual iPhone, and by shooting in "burst mode" he captured hundreds of impressive photos and videos for each individual person. He clearly was an expert of capturing the moment!
There is a minimum age limit of 12 years of age to access Devil's Pool, but children as young as 8 may visit Livingstone Island.
Devil's Pool is only accessible during the low season (August-January). If you are travelling outside these months you might be able to visit Angel's Pool in a different section of Victoria Falls.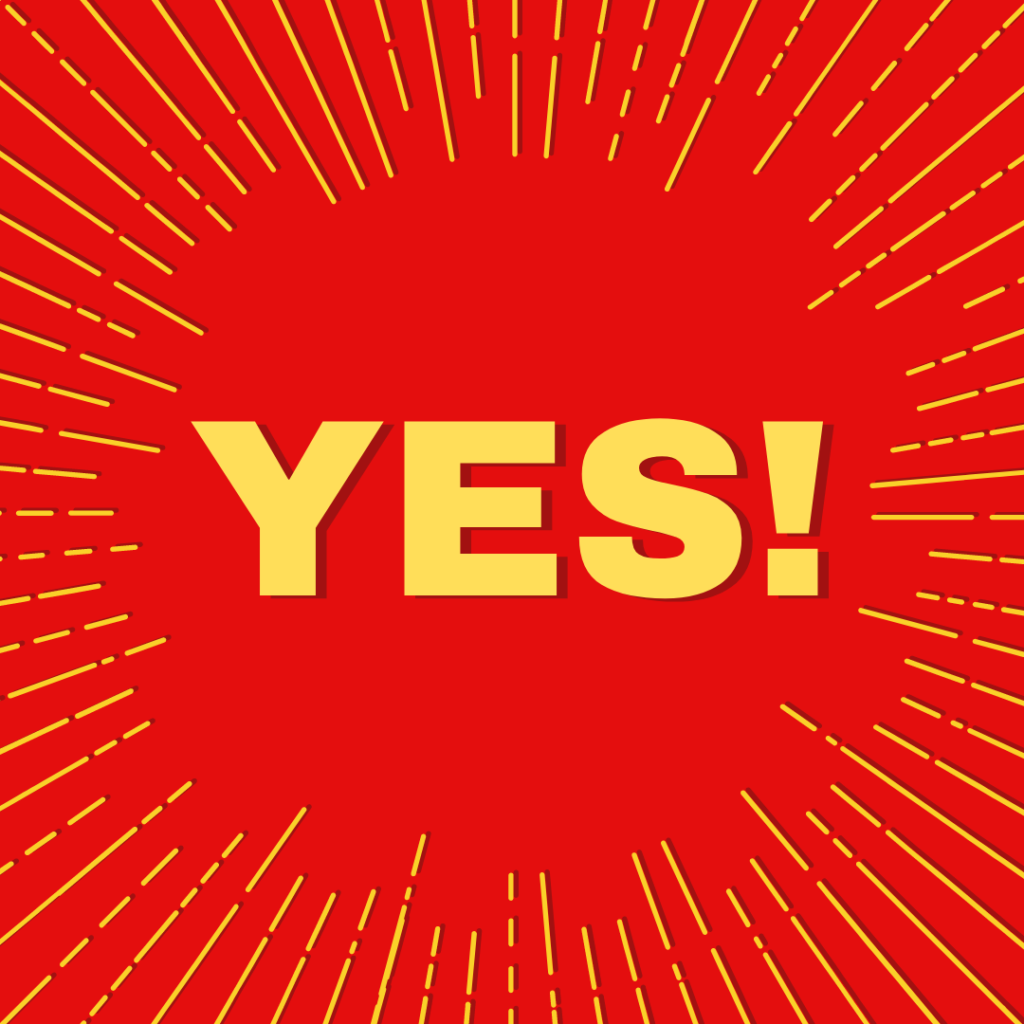 It was an exhilarating and memorable adventure that you just cant get anywhere else. It truly was a once-in-a-lifetime experience.
This trip was arranged through our good friends at The Africa Safari Co  and we recommend them completely.
——————————————————————————————————————